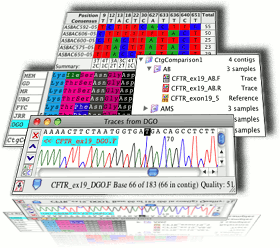 Sequence Assembly with CodonCode Aligner
CodonCode Aligner is an easy-to-use program for sequence assembly, contig editing, and mutation detection. Features include:
Multiple sequence assembly and sequence alignment algorithms
Manual and automated sequence editing
Align contigs to each other and get back to the underlying trace data with a simple double-click
Reference sequences and difference tables
Sensitive mutation detection
Advanced methods for heterozygous indel analysis
Automation tools: assemble by name & scripting
Restriction cloning, Gibson Assembly, RFLP analysis, Primer design
CodonCode Aligner offers many unique features not found in other programs, but is significantly more affordable.
Get A Free Trial
Download the demo version and get a fully functional 30-day trial. No forms to fill out.

Available for Windows and Mac OS X. Demo versions can be upgraded to the full version by entering a purchased license key.

What's New
CodonCode Aligner 11.0
is now available
New features in version 11:
Gibson Assembly
Synchronize starts
Annotate common features
and more...
More details can be found here